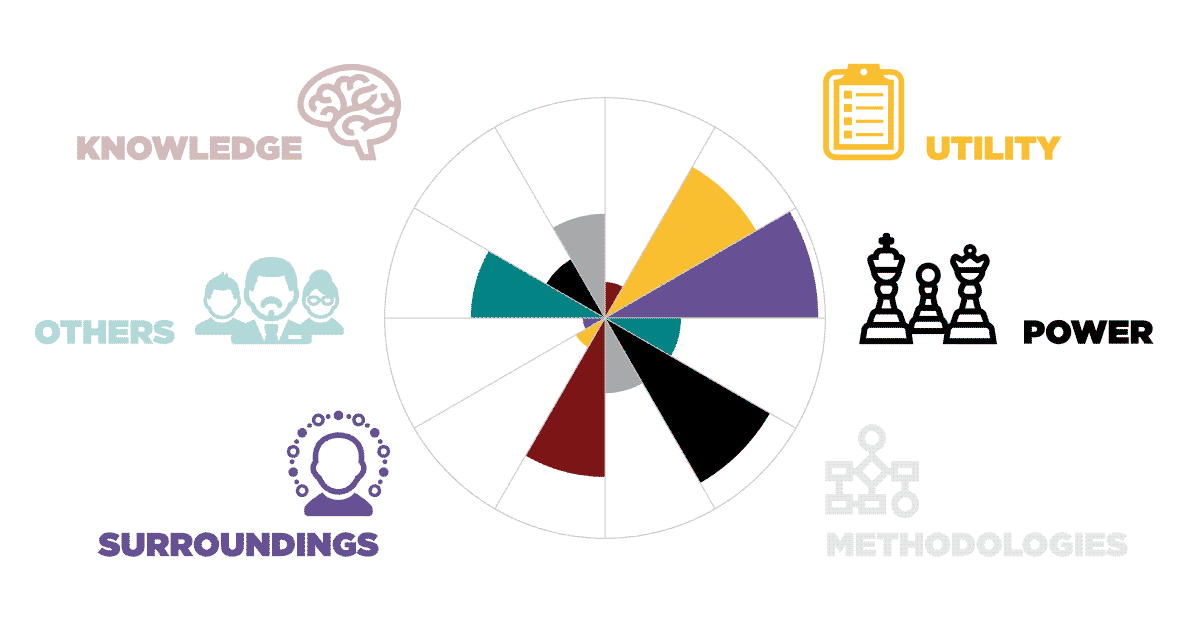 If you're learning about the assessments TTI Success Insights has to offer, learning about 12 Driving Forces® is one of the first steps you should take.

Here's everything you need to know about this assessment, from who created it to how it will help in the workplace and beyond.
Here Is Everything You Need to Know About 12 Driving Forces
From the benefits of the assessment to the ways individuals, teams and organizations can benefit from its insights.
---
What Is The 12 Driving Forces Assessment?
12 Driving Forces is an assessment that measures why a person does what they do. It measures the motivation (and strength) behind behaviors, using 6 different motivators.
Those motivators are...
Knowledge
Utility
Surroundings
Others
Power
Methodologies
These 6 motivators are each divided into two distinct sides, measuring each factor. Based on a continuum, these 12 drivers make up a person's cluster of Driving Forces.
---
What Exactly Are Those 12 Driving Forces?
Knowledge
Instinctive/Intellectual
People with an

Instinctive

Driver use past experience, intuition and real-time research to solve an immediate need.
People with an

Intellectual

Driver acquire knowledge, discover and find opportunities to learn.
Utility
Selfless/Resourceful
People with a

Selfless Driver

invest all of their resources and time into completing tasks, regardless of constrictions.
People with a

Resourceful Driver

find ways to maximize productivity and focus on getting a return for their time, talent or resources invested.
Surroundings
Objective/Harmonious
People with an

Objective Driver

creative functionality to produce desired outcomes in their surroundings.
People with a

Harmonious Driver

create balance in their surroundings while embracing the experience.
Others
Intentional/Altruistic
People with an

Intentional Driver

form purposeful strategic relationships, and focus on future benefits.
People with an

Altruistic Driver

love to respond to people in need, and thrive while working to benefit others.
Power
Collaborative/Commanding
People with an

Collaborative Driver

contribute to the success of the team, group or organization's mission.
People with a

Commanding Driver

believe in controlling their own destiny while advancing their status and position.
Methodologies
Receptive/Structured
People with a

Receptive Driver

challenge the status quo and find new ways to complete routine tasks.
People with a

Structured Driver work diligently to advance causes they believe in, while honoring beliefs and traditions.
---
Who Created 12 Driving Forces?
The 12 Driving Forces assessment was created by Rick Bowers and key personnel of TTI SI. It is based on the original works of Eduard Spranger and his six motivators.
This assessment was created to reveal the 'why' behind the 'how'. DISC reveals how an individual behaves, and 12 Driving Forces reveals the motivations behind that behavior.
---
How Can You Use 12 Driving Forces Right Now?
If your challenge in the workplace involves people, 12 Driving Forces can help. Here are a few of the ways you can use this assessment.
Quickstart Personal Development
For those seeking to improve themselves personally, The 12 Driving Forces is an extremely valuable resource to help them determine the 'why' behind their actions.
Knowing what motivates you, you will be able to change your approach to your current position, pursue a more fulfilling career, and improve your interpersonal relationships just by increasing your awareness of your motivations.
Improve Work Performance
Assessments provide valuable information to help a person better understand themselves and begin to know what motivates them to get out of bed every morning.

Not only will understanding your Drivers help you steer your professional development, it will help you improve your daily performance in your role. For example, if a project is structured around Objective goals, but you have a high Harmonious Driver, you will have a difficult time getting invested in the task at hand. You can either suggest a different approach to the entire project, or work at it in your style with that knowledge in mind.

Are you energized by your work? Are you engaged? The 12 Driving Forces helps you understand why or why not, and then helps you re-engage.
Get an Edge With Strategic Planning
Every organization needs its workers to be unified in working toward the company plan.
Leadership needs to recognize the differences in their team members. If they want to encourage the development, productivity, and happiness of their teams.
Understanding a person's comfort zone helps ensure that they are set up to succeed, based on the things that drive that person.
Make Hiring Make Sense
Being both EEOC and OFCCP compliant, The 12 Driving Forces assessment can be used as part of the selection process.

By fully understanding the motivation behind behavior, your hiring team can get a strong sense of who a candidate is and how they prefer to work. Then, you can see if those patterns and preferences align with the role.

The most popular combination of assessments for hiring purposes combines DISC and The 12 Driving Forces. This package is called Talent Insights and helps explain both the how and the why behind a candidate's behavior.

Learn more about using assessments in hiring here.
Develop Your Talent Pipeline
Assessments are an integral tool for organizations looking to promote from within. Understanding what drives a person will help to determine whether or not they may be on a proper career trajectory or currently in a position which keeps them engaged.
Being able to differentiate between a person's energizers and stressors can help ensure a person is properly placed on your team.
---
What's Your Next Step?
When it comes to using assessments, you have options. If you're interested in using TTI SI assessments in your organization, with your team, or for personal development, contact us here.