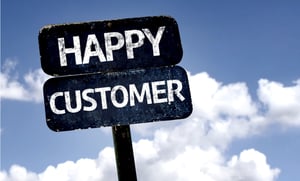 "Customer for life," isn't that the goal all sales and service organizations are after?
Creating a relationship with a person or company that keeps them coming back year after year should be the underlying drive for anyone charged with creating new business and keeping the revenue flowing. To get to that hallowed position you've got to understand that trust is essential, which isn't news to anyone that operates above the level of a peddler.
Developing trust beyond just an initial sense of getting what you paid for establishes a bond of longevity, a bond that keeps customers loyal and out of the price shopping mindset that most sales people detest. To create that feeling salespeople, and the entire organization they represent, must go further and be willing to do anything within reason to make it apparent that a customer's business matters beyond the placing and delivery of the order.
That sense of trust must be deeper than a surface level impression. That trust must be felt in the heart and soul of the customer (should we be saying partner here?) and it is the essence of what makes a customer for life relationship possible.
Our goal as sales or business development professionals is to create the impression that we will always operate with a commitment to do what is best for the customer, even if it is not best for you.
Just doing what is best for the customer is not enough, you must deliver that extra level of commitment to truly end up with customers for life.