EDIT:
The Brooklyn program has rescheduled to start on March 20 & 21.
The Beastie Boys said it best- No sleep 'til Brooklyn. Growth Dynamics is pleased to announce the return of in-person business development training and will be kicking off in Brooklyn, NY.
Growth Dynamics, like many of you, was forced to figure out how to make what we did pre-pandemic work during the pandemic. We are thankful that we could still offer our services over the last two years via Zoom and continue to reach individuals and teams during this time.
BUT the time has come to get back to in-person training.
We are bringing our updated High-Performance Sales Program (HPSP) to Brooklyn starting on Feb. 13.
The HPSP program will run from Feb. to Aug. with one meeting a month, except for Feb., and will operate from 9 am - 4 pm. To maximize the experience of each enrollee we will be limiting the class size to 13 to allow for strong discussion, plenty of opportunities for Q & A, role playing with live selling situations and of course, delivering our content.
Training will be led by Growth Dynamics Founder and President Charlie Hauck. Charlie has been impacting individuals and businesses with his training and coaching for over 30 years.
We know taking a full day away from clients, emails and phone calls might be making enrollees nervous. We have built in time during each class to allow enrollees to return calls and stay connected to work.
Enrollees are also offered unlimited, scheduled, coaching during the length of the program plus 90 days after the last class.
To enroll in the program or find out more please contact Sarah Waple, sarah@growthdynamicsonline.com.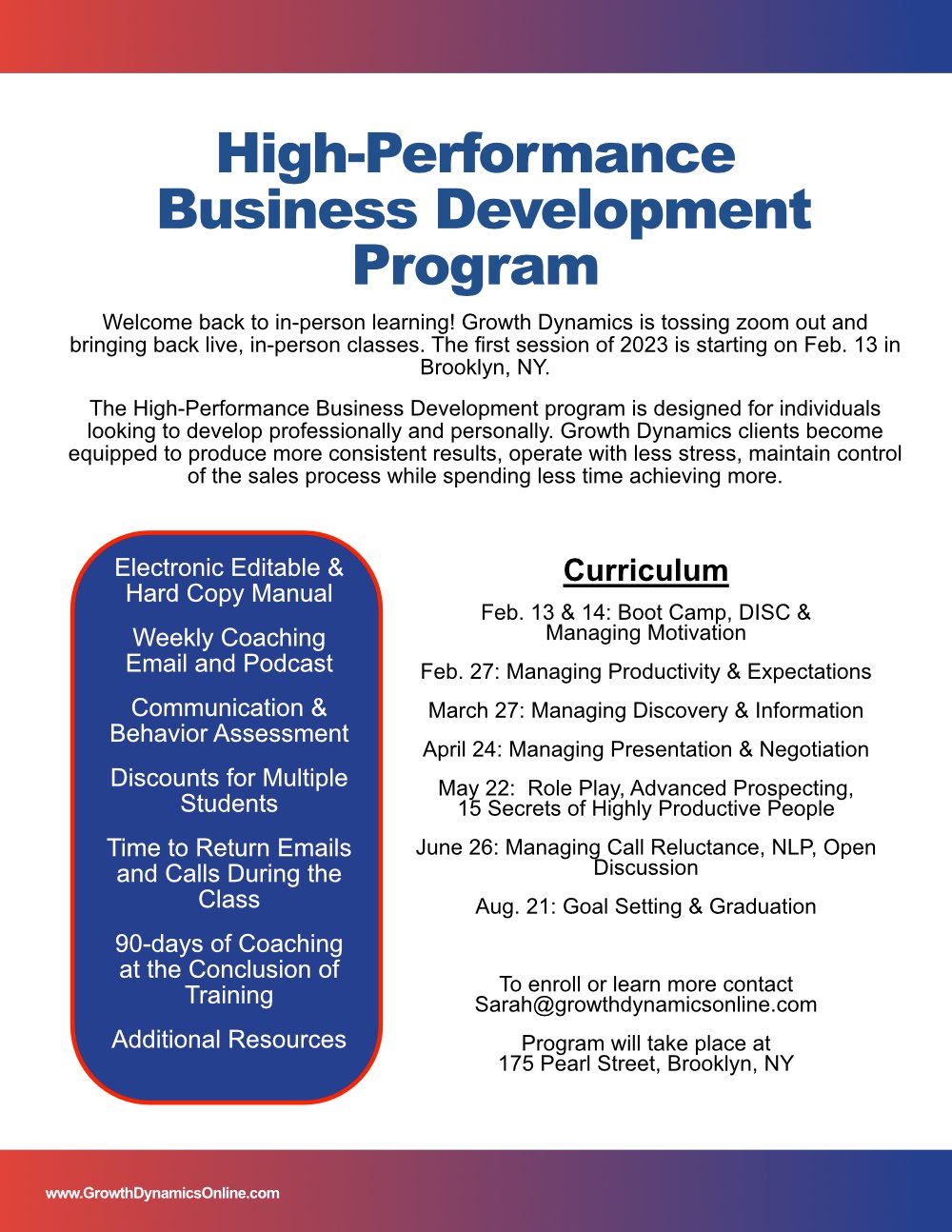 Header photo: Photo by Esteban Chinchilla on Unsplas