I am annoyed, but there is an upside to this annoyance. They are constructing a natural gas pipeline right outside my office, and I mean right outside my office, like 20 yards from my window. The noise is constant, and despite all the sound barriers they've constructed the noise is still annoying. And to make things worse, they don't know when it will end. So, yes, I am annoyed.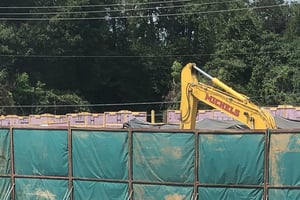 But I also believe there are messages, positive messages, all around us if we keep the self-talk and woe is me whining to a minimum. Out there, under the tarps and plywood are some big ugly pipes being forced into the ground that aren't going to go away no matter how much I might complain about the inconvenience this project has created or how much the droning sound of a huge drill annoys me. Perhaps I there is a positive idea hidden in this ugly situation.
After making a conscious decision to not get too focused on the negative, I believe I found the positive that hides in among the noise, vibrations and disruption; the pipeline itself. As a business consultant I am constantly reminding my clients to "manage your pipeline" as a key component of consistent success. When you have no pipeline you have no abundance. When you have no pipeline you have no power to walk away. When you have no pipeline you have no future. This actual pipeline is there to remind me, my clients and sales organizations everywhere that your pipeline is the lifeline to sustain your business. Sales prospecting isn't always pretty, easy or convenient, but we still have to do that work. You know it requires persistence and a plan to extract the riches that are in the territories you are working, and you know that pipeline management is the key to predicting your sales future.
The pipeline in the picture is being constructed to move the natural gas from the Marcellus Shale gas fields that are in upstate PA, West Virginia and New York. The gas company knows that without a full pipeline their future might be in doubt, but if they do the dirty work or construction and filling this pipeline there will be profits and expansion for years to come. I don't like the annoyance, but I do love the analogy that they've shared with me right outside my window. It all comes down to perspective, I guess.