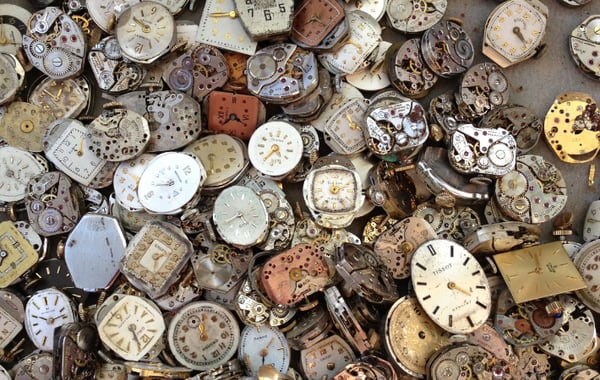 Symptoms:

Jake was putting in about 60 hours a week plus some time on the weekends but was still worried that his sales and management production was not nearly as high as it could be. The family did not see him as much anymore and his "To Do" list was constantly growing. Despite all his hard work, the only thing he could conclude was that he needed to do a better job of "time management".
Diagnosis:

Jake's conclusion is partly right, but he might be working on the wrong end of the problem. Last time we looked there were still 24 hours in a day and most of us might have a tough time getting that changed. Maybe he should give up on managing "time" and start to find different ways to manage himself instead. Turns out that most of the symptoms were really because his days had become disjointed with dozens of different activities. He was spending several hours with his reps on 4 days out 5, answering the phone every time it rang, constantly watching his email, taking a sales appointment whenever he could get one, doing paperwork in between and trying to sneak in some time for prospecting when he wasn't being interrupted with everything else.
Prescription:

It's not unusual for many reps and managers to have the same problem when trying to manage dozens of different un-related tasks and still get some time off. One of the best ways to work around this is to schedule similar activities in blocks well BEFORE someone else (or something else) finds a way to eat up your day.
Jake decided to schedule certain blocks or days on his calendar for three distinct types of activities - some for production, some for planning and admin, and some for recovery and personal time. Now he already knows in advance which days he can fill with sales appointments, which days or blocks he will stay in the office to prospect, which time slots are for management or which days he will leave open for personal time. By pre-scheduling openings for similar activities, he can actually get something done and get on a roll with whatever he has decided to do then. If he can stay loyal to his calendar, and jealously guard what he has planned for himself, then he will find that his days are much less fractured and much more productive.
Critical Thinking
Do you feel that your hours and time put into work has changed because of your Covid working situation? What are you doing to maintain the schedule you would like while also hitting all of your work goals and expectations?
The Drill
Final Thought for the Morning:

"Where your attention goes, your time goes"
― Idowu Koyenikan
"Time is the most valuable coin in your life. You and you alone will determine how that coin will be spent. Be careful that you do not let other people spend it for you."
― Carl Sandburg
Your Top 3 Goals & Tactics for the Week
LAST WEEK: Update us on how things went last week with your stated Goals and GD Tactics.
THIS WEEK: Please share your Top 3 Goals for this week and the GD tactics you plan to deploy.
Photo by Gursimrat Ganda on Unsplash