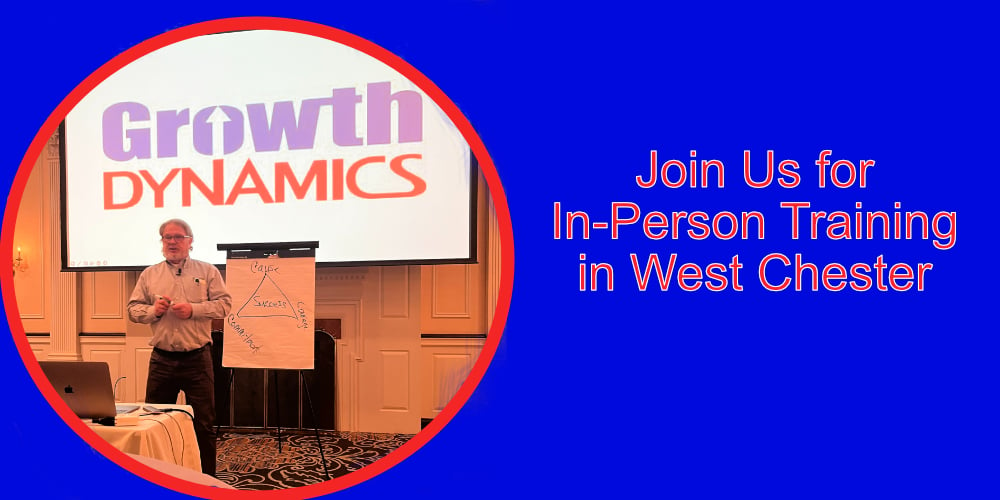 It has been three years since we were able to offer a local to Growth Dynamics High-Performance Sales Program and we are pleased to say that run ends NOW.
Starting on March 8, Charlie Hauck, lead trainer and partner at Growth Dynamics, will be back where he belongs in front of business development pros looking to refine and improve their sales process.
We know our program works, but what company would advertise their class and say anything different?
The difference is we know our program won't work for people that believe buyers only buy based on price, those who think it is important to present, present and still present without knowing what happens next, and those that don't want to embrace different ideas and approaches. Even more importantly, our program will not help those that don't want to change and do the work.
If enrollees aren't willing to schedule one-on-one coaching, embrace the uncomfortableness of the processes we share and attend the monthly class, they should not read any further.
The monthly classes will focus on, but are not limited to, more effective and efficient sales processes, the difference between prospects and suspects, and just how important a solid discovery process is to success. The open-forum classroom setting allows for learning through real life examples provided by those in the room.
The ideal student is one that is exhausted from sending out quotes and getting no information back, let alone winning a job, or frustrated by sharing "best pricing" and still missing the sale, or sick of rushing to help solve someone's problem to only find out it wasn't really a problem.
Each month there is one full-day class, other than our 2-day boot camp to start the program on March 8/9th. The program is 8 months of classes and three more months of as-needed coaching for each student.
Please contact Sarah Waple via email sarah@growthdynamicsonline.com to discuss the program or enroll.
Full Class Schedule:
All classes are 9-5 with a break for lunch except for March 9 (9-1) and will be held at the WCU Graduate Center, 1160 McDermott Drive, WC, PA 19380.
March 8
March 9
April 12
May 10
June 14
July 14
August 9
September 13
October 11