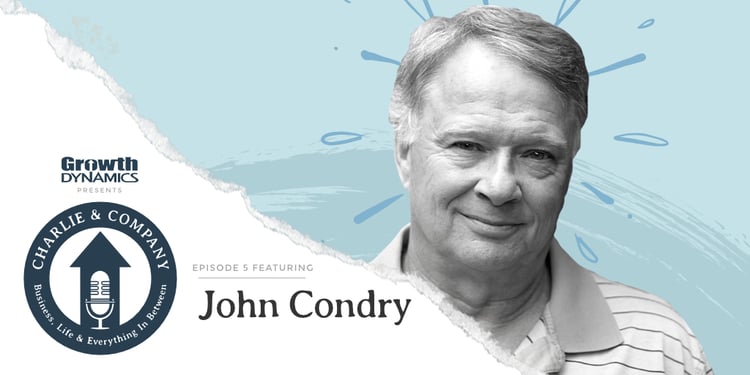 In this episode of Charlie & Company Charlie is pleased to have fellow trainer and long-time friend John Conrdy share his insight into training, managers and the plights of sales professionals and managers right now.
Highlights of the conversation include how both Charlie and John stumbled into the training industry and selling, four challenges that have become increased for manages during the pandemic, the blessing and curse of working remotely and how to navigate it all.
Let us know what you think of this episode and our podcast by leaving a review wherever you are listening to our content. Sharing is always helpful too.
Note: Transcript is autogenerated.
Sarah Waple
Hello, and thank you for tuning in to this episode of Charlie and Company, a podcast from Growth Dynamics. Today's guest John Condrey is someone Charlie has had the pleasure of working with for a long time. John is also in the training business. He specializes in management training. In fact, he facilitated our high-performance management training this last year, which was a fantastic program for anyone that is possibly new to the management game. Or just looking to refine some skills as so many things have changed for managers over the last year or two. Charlie and John touch on topics from management training, sales training, working in the business, their favorite stories of different clients and prospects and how both got into the industry. So be sure to give this episode a listen. And if you have any questions for Charlie, John or myself, send him over via our website, Growth Dynamics online.com. Enjoy the episode.

Charlie Hauck
Hi, Sarah, thank you for inviting John and me to sit down with you to talk about way we see the sales and sales management world. I'm Charlie Hauck. I'm the president and founder of Growth Dynamics, Growth Dynamics has been around for, I guess, 22 years now. And that was where I ended up after eight or nine years in the sales training business working with someone else. Really, for 2022 years, I've spent a lot of time traveling around the country working with a lot of manufacturers reps, a lot of other people in their food chain distribution organizations, manufacturers, anybody that's in the supply chain from manufacturer down to end user has really been a target of mine in the business consulting that we do in Growth Dynamics. I got into this from the client side. I was a roofing contractor. And if I tell you the truth, I didn't know what I didn't know. And frankly, the sales training that I got that our other guest John Condrey was part of taught me that, boy, it wasn't just being able to talk to people and make friends and get them to like you, there are a whole lot of other things that were really the elements of whether or not I was succeeding or not succeeding. And in all honesty, I was not succeeding, it felt like I was for a lot of years. But when I have to assess what I did in that business, we did a lot of great things. But as a business, we were not successful in the long term. And a whole lot of it had to do with how we went to market and sold the services to the people that we want to sell them to. So that experience got me into being a sales training client for someone. And after a year, I figured out really easily that I didn't want to be in the roofing business anymore. But I had no idea where I would go or what I would do. And luckily for me, my sales trainer recognize that subconsciously, I was asking him to, to rescue me. And for eight or nine years, he did a really good job of rescuing me. And that was the foundation of what's been now 32 years of being in this business of helping people be more efficient, more effective at collecting decisions and generating opportunities. And at 66 years old, I own the company. I'm the primary producer, the company, but it's a lifestyle as much as a job and I love it. I love the impact I can have on people who are willing to, I guess be as willing as I was at that point to change and figure out I didn't know at all just because I was supposedly a natural born salesperson.

Sarah Waple
I love that saying Right? Natural Born salesperson. Yeah, it's so many different meanings.

Charlie Hauck
none of them are really good for about 98% of us that have ever been told that. So that's how I ended up here today. And John is one of the people that over the course of my career I've learned to trust and admire and look to for coaching and counsel and Devil's advocacy. And I'm thrilled to be on this podcast with him today.

Sarah Waple
Well, and for those that don't know, John has also done a year of training with us and clients we already have at the moment for our managers, one level above the sales, sales position. So that's how we have actually been able to bring John into our fold here at Growth Dynamics. So John, tell us do another synopsis for us. Tell us tell us

John Condry
not as mine Not as good as Charlie's.

Sarah Waple
And I don't believe that for a second.

John Condry
So yes, I'm John Condry, and I am President of Condry Associates not a very creative name, I wrote a book called The Inch Principle, that about management & management ideas. I started off in, you know, my career is is nobody gets into sales on purpose. Everybody has a different life plan and a different way of going about it, we don't realize that whatever plan you took sales was part of it. You know, a lot of people look at sales, and they're like, Hey, you're in a sales job or a sales position when it every position is a sales job, or a sales position, having the skills of sales and being able to communicate, and be able to work through situations and negotiate, and motivate yourself and motivate others. That's just that those are just irreplaceable. And they are skills that can be learned. And I didn't know that at first, I thought people had to be, you know, if you were a leader, or manager or an entrepreneur or a salesperson, I thought that you know, you, you were just that you were it was you was good genes, you were born into it. And I began to learn that these were actually learn things that I could learn that I could practice that I could commit to, and, and make some improvements in the area. So, I've had Condry Associates for 20-26 years. And I started off working just like Charlie said, I worked for another sales training group and, and I got there totally by accident, I was in sales I'll never forget. I was in sales. And I was terrible. I mean, honestly, I'm not just saying that I was literally terrible. I was starving. And my wife at the time, she came up to me and she said, you know, something's got to change here. And you're working awful hard, but you're not really producing anything. And so, I got a flyer about a sales training seminar, and I went to it. And I sat in this seminar, and I heard the guy say, I didn't hear much of what he said he was talking about a lot of things. But I heard him say one thing he said, you know, never take a Think it over from people. And I was like, oh, man, I'm like the king of think it overs. That's, that's like, that's like all that I do. You know, I just run around, talk to people work my butt off. And they tell me, they want to think about it. They appreciated me. And that was the end of it. And so, when he said that I was like, oh, you know, I don't understand what you're talking about there. Because I'm, I'm like, that's, that's what I do. I don't want to put pressure on people. I don't want to be perceived as a pushy person. I don't want to sell people things they don't want or need and, and he was like, no, you got to stop that. He says on your next time you go out, just tell people upfront that they can tell you Yes. Or they can tell you no, but they can think about that was the end. So that was the end of the seminar for me. So, I laughed, and I was like, oh, that sounds so weird to be able to do that. None of that sounds right. Doesn't feel right to me. But I was like, you know, I'm kind of at the on death's door here. I'm gonna, you know, I'm gonna have to figure out another avenue to make some money. I was at the time I was selling in the evenings. And I was delivering newspapers in the evening and in the morning, and I had a regular eight to four job. So, I was like, you know, working my tail off trying to, you know, trying to figure out life and how it worked.

So I remember I went, and I sat down, and I still remember this guy's name. We're talking 30 30-some years ago. His name was Dick Fox. He was a truck driver. And I was in the financial service business as everyone is at some point in their life at one point, and so I sat down with him, and I said, I was a truck driver. He was kind of a gruff guy was big. And his wife was very, very nice people. And I said, I had done all this work for them. And I was shown about to show it to him, and I said, Listen, I'm going to show this to you. But I went to a seminar this week, and the guy told me to do this and so I apologize up front. But here goes, I'm going to show you this stuff. And if you like it, please say yes. If you don't like it, please say no. But whatever you say, do not say Think it over. That is what I literally said verbatim to Dick Fox and his lovely wife. And he just looked at me and nothing It was just dead. Silence and I was so uncomfortable. And then he looked at me and he said, we don't make decisions with salespeople sitting in front of us. And so, I was immediately backtracking. I was like, oh, no, don't worry about it. It's all good. You know, I'm just caving. Just kidding. I'm just caving, right? So, I go ahead and lay it all out for him. So, we get all the way to the end. And she looks up at me. And she says, I think you want a decision, right? And I said, Ah, I didn't know what to say. And so, I saw for the first time in my short career to people think it over while I was there, see, I was there. And I was watching them have this discussion. And it was so terrible, because he was so negative, she was so positive. And then all of a sudden, it flipped. And I didn't intervene at all. I didn't say anything. I was just watching the show. And then all of a sudden, he got positive, and she got negative, and I'm just dying inside. Are you kidding me? No wonder I don't want to be here. While this is going on. I would much prefer to get out of here and try to call them back in a few days as I had the other discussion go. And finally, he looked at me, and he said, Let's do this, John. And I panicked. I honestly did not know what to do next. And he's like, and I'm like, I'm great. I said, I was good. I was fantastic. I know it's gonna be good for you guys. And then he said, Well, do we need to do anything? Like, you know, I said, yeah, yeah, yeah, we got paperwork, paperwork. So I reached into my little briefcase, guess what? I didn't bring any, I brought no paperwork with me. So I said, Can I make a call, I literally called my manager and said, I'm here trying to get a thing finish. And I forgot my paperwork, could you help me out, he goes, Ah, this is a crank call. Because you don't you never bring any, any absent, you never bring any business in. But he came I just kind of thing and he drove over, brought it, I got it filled out. And then about three weeks later, I got paid. And about two months later, I quit my paper outs and about four months later, I quit my full-time job. And then I was full time doing that. Man. It was while I was doing that, that I met the sales training organization that Charlie was talking about. And so now I've evolved to the standpoint of i I fell in love with working with managers. I always felt like working with salespeople on the front lines was fantastic. And, and truly, not just because it's your sales podcast. But I mean, Charlie is truly one of the best in the country. And I trained many hundreds and hundreds of sales, sales trainers. Okay, not that I'm so great. But I did. And Charlie is one of the best reason Charlie's one of the best. And I'm not just selling him on this. But understand this Charlie is good at the technical part, understanding the strategies and tactics of sales training, but he's got the heart. And that's what most where most salespeople fail, even if they're technically gifted, or they're naturally gifted, they just don't have the heart for it. And that when when you can help someone to discover within themselves, their heart, their soul, their purpose, their desire, their commitment, and you add that to really great sales training ideas, and you gotta you got a winner.

Charlie Hauck
So yeah, John, that's awesome. Thank you for the compliments. I I don't know that I I would have ever phrased myself with the way you just spoken to me. Thank you. That's humbling. But you know, when I think about the 30 years, 30 plus years that I've been in this business and and to hear you say that made me think of a movie of all the people that I've trained kind of walking past and seeing the ones in that group that the line you said about having the heart for it. What a what an enormous differentiator that is and and I think it's you know, you're right, I do have a heart for it. It is it's an it's it's an avocation and a vocation for me. I love the interaction with these people that are out there. Some of them need to quit their papers. their delivery jobs like you did. And I delivered pizza for a while because I was so broke. And the people need to have that heart. And what I think and this is where I think your magic comes in is, so many managers don't know how to recognize that in somebody. And they just throw more data at the more they throw more technical training, or they, you know, they just yell at them to just close, or whatever the anger of the moment brings out of them. And they're, they don't see the spark are the passion that they need to ignite those salespeople, you're my boss, you're supposed to bring that to me. And if they don't understand if the manager doesn't understand that, well, there's a lot of quality people out there that are lost. And sometimes from just that first manager, that that took them out of the business.

John Condry
Yeah, that's so good managers today are too are disconnected. And I'm generalizing a little bit. I'm not saying each one. Technology has done that to us. So technology has been thrown into the mix. And it's fantastic, because it helps us to be more efficient, more effective. But it also we lose a little bit of that connection to the people, I have a company that I was working with. And they you know, they provide leads for their they're more of a tech company they provide leads for their bit all their salespeople and business development people. And they provide leads, and that's what they kind of go. The problem when when I came in I was working with them is that the managers are too disconnected that what happens between the time that a sales rep gets a lead, and the outcome. So they're very disconnected from that they think the same thing is happening. They're like, Alright, hey, we did our job. I'm a manager, we, they're our marketing department, we provided leads I got I managed to get the leads to you. And so go do your thing, you know, go make it happen, go close that deal. From a management position, they would always be looking at all sales reps are the same, all leads are the same. Everything is the same. And we would run into issues. And because you did, you'd have some people that honestly got got some that weren't very good in sales, but they got lucky. I'll be honest with you, they were they were lucky, they had a couple other people that were really good, that that weren't quite, we're just kind of missing of one or two little things where the leads weren't quite right. So the managers were making decisions management decisions about who to promote, or who to give more leads to or who to do this than the other based on results. And not looking at the process, or the interactions, or the conversions, or all the little things that long term, make the difference in a successful rap and a successful ROI. So I think when we talk about that managers have to become more hands on. It sounds weird, because they're like, no, no, that's why I got out of the field, I became a manager so that I can be hands off, and I can just work on the business. Yeah, that's good. There's some of that goes on, too. But really, you got to be able to be connected to what is going on on the frontlines. You don't have to be as good at it as the people that are doing it. But you do have to be connected to it. I think that's one of the big differences today.

Charlie Hauck
Well, it's interesting that you say that because as you know, I don't want to kick a tired horse here that pandemic and, and working remote. But when everybody had to re orient their business practices because of the restriction and the access and, and all the pandemic related changes. You know, I had a lot of people that were saying, I can't do this, I only work in front of people I'm, I'm, I'm not any good if I'm not face to face, and and what really happened, and this is where your comment about management is so spot on. A lot of managers didn't know why their people were in that position. They didn't know these people had no tactical stuff, that if they actually couldn't be standing somewhere and, in a way, where somebody's down by personality or whatever, or a product demo, when they really just had to be able to have a business conversation through technology as we're communicating today. Some of those aces were completely out of their league and couldn't do anything and frankly, a lot of the managers or business owners, I do a lot of work with manufacturers reps, a lot of those rep owners didn't know how to even address the issue other than to say, Oh, well. And so when they needed to be more aware, more in touch, and more strategically valuable to their people, they were actually maybe worse off than some of their salespeople who were stuck in that arena. So your comment, I think, is one of the, the new norms that that we've seen happen in the last two years is, you know, managers, if your guys if you're not managing a process, and your people are hidden away from you, and you're not in regular contact with them, it's probably going to get worse before it's going to get better. And I think that's where your comments really valid.

John Condry
But I think I think is, as we see some basic management principles, I was on a call with about 150 Insurance leaders, and they were talking about, you know, their people and the pandemic, and the remoteness and all of that stuff that was going on. And one of the things that I told them, I said, you know, one of the great strategies going forward, is to have some what I call bottom lines, you might call them beliefs, you might call them values, you might call them purpose. But these are things that you they that everybody adheres to, this is one of the one of the things is that when people are remote, the honor system is the kiss of death. And I had I had a business partner for a few years, and I remember him calling me one day. And I was asking him, you know, hey, what's going on with I doesn't look, he was in charge of the front end, I was in charge of the back end. And, you know, the front end was getting kind of wasn't consistent. And so I said, Listen, what what's going on here? You know, I'm, you're my partner. I'm not trying to manage you. But why don't you tell me what's happening out there? Because performance and production is not good. And at one point, he finally opened up to me, and he's like, I'm, I said, what do we want to argue doing every day? You know, and it was, it didn't have anything to do with work, you know, it had to do with taking the kids running assignments, walking the dog, and that's what we termed it, we started terming it walking the dog, because that's because it that could relate to anything that there was, but whenever he was letting personal things get in the way of professional things, or the work that he was supposed to be doing for us to grow in the business. And he's a great, he was great. He's, my partner. He's fantastic, talented, but it's so easy. The honor system is the kiss of death. So, you have to have some basic foundational beliefs and bottom lines, boundaries, maybe you could call them that you say, like, for example, I have one CEO who's just starting out to get his people back in the office, but they've been for two years they've been out. And you know, one of the one of the bottom lines is, is they all meet together every morning. And they don't stay long together. But they huddle up. It's a bottom line. Everyone's like, I don't know, if I want to do that. I might be busy, I might have an appointment. No, it's a bottom line. Everybody needs boom, here. And then we it's almost like, and then we kind of get our stuff and move on. So when you have remote people, salespeople, especially, they have to have boundaries, they have to have bottom line, they have to have structure. I don't care how good you are, how talented you are, how lucky you are, without structure, long term, you're going to fail. And this is the problem. The problem is right now, because of COVID, we have a very short-term view of employment, employees have a very short-term view of employment. And what that means and same with providers. Same with the owners and companies. They everybody's got to start looking a little bit farther down the road a little bit more of that. So in order to you know, make the right decisions, but having those bottom line so that if someone's working remotely, I know that I don't know what they're doing every second of the day. But I do know that they're at least adhering to certain bottom lines. And and if they are because we had Charlie and I both know The first step in success is literally showing up. You know, sometimes we've had people in training, who honestly showed up. And they were like, in the beginning, this is terrible. This is awful. I don't understand this, I can't relate to it. And we would say, hang on, don't give up. Just keep showing up. And somewhere. Oh, I don't know when it is, it's different for different people, they have their moment, boom, they come to a training class, and Charlie goes through a roleplay, or a concept or an idea that he bent over five times with them in the past. And they were like, this is where I just, I just didn't mean anything to me. I don't, that doesn't where blah, blah, blah, all of a sudden, because of a situation they're in, it clicks. And they are, then they're like, Oh, my God, I am so glad that I showed up to this. I'm just I didn't want to, I want to figure out some excuse not to do this. And so this is all the things that managers have to do with their team. You've got to be able to have bottom lines, where they show up consistently,

Sarah Waple
with what you said about having it click and as a manager, and as a sales trainer, and all that part of watching Charlie do this for so many years. And I think a little bit in the last year with you, John is seeing it click not necessarily for the sales or management process. But seeing people take those concepts and ideas and make it click outside of their professional career seems to be one of the biggest, the biggest aha moments for people. It's like they it's it's sales training. But it's it's also how this applies to life. Would you agree to that?

John Condry
Yeah, I would agree. But like, you know, you know, Mark Cuban, not a, you know, Mark Cuban, you know, he's very successful, he will tell you, as a CEO, as an innovator, as an investor. He says the number one skill he has, and that he looks for is sales. He says the number one CEO skill should be sales. Hmm. Isn't that interesting? So and if you've ever met Mark Cuban, he is a great salesperson, you know, and so even though he's a CEO, and does CEO activities, it's the same, that same part of it, it's skills that they learn, they don't look at it as a job, just like management's not a job, everyone has to stop looking at management and sales as jobs. It's a look at it as professions that I could take my management skills, and I could go anywhere, I could go anywhere and do anything, I can take my sales skills and good, if you're good in sales, you need to go, you can go anywhere, you can go anywhere you write your own ticket, you're good management, you can write your own ticket, and you may just do that you may start your own thing and write your own ticket.

Charlie Hauck
Well, I think one of the things that I find myself focusing on more and more and more with managers when I interact with them, in relationship to the work they're doing with their sales teams, but definitely with all the salespeople, and it's just look, this is just a conversation. It's not, it's not this other creature that we invent, that you have to learn to operate, to be good at. It's just how to be more effective. And in a way, I'm a little tired of this word, but I think it applies here, transparent about what your intention is. And to just can we just have a conversation about you may need this you may not need this, I may have what you want, I may not have what you want. I may be at the right, right price point, I may not be at the right price point. But can we just have a conversation about it? And if we if we both share the right information, we should be able to figure out without all that sales pressure that people think salespeople are master masterful at applying without anybody knowing it. I just think that one of the big things that I've really focused in my training, can we just get you to believe you can just have a conversation with another person about how you may or may not be able to help them. When I think of the managers that I work with that. I've seen some of them grow tremendously through the work you've done with them in the last year. They're having conversations with their people. We do call them, you know, evaluation meetings or whatever. But we're really helping them understand just Have a conversation with these people that you're trusting.

John Condry
That's a powerful, powerful point. But to do that, people have to be willing to give up control and stop manipulating. So, if managers and salespeople get accused of anything, it's not being able to take no for an answer, trying to manipulate and control and pressure people into seeing it their way. Right. Whereas this, this other approach is very disarming, so that they have to be willing to give up control and stop manipulating and stop trying to emotionally pressure people into doing something that they don't necessarily want to do or don't need to do. You know, the, the biggest problem is that there's too many salespeople talking to people that they shouldn't be talking to, that are not qualified. They're not candidates, they're not. I call it like, ready? Are they ready? Are they are they real, are they're ready, and they're real, then let's, let's, let's have a good conversation about what like Charlie's talking about. And it's the same thing with employees. So many times because of manipulation stuff I've see on the last session that we just had with the Growth Dynamics group managing for high performance group. That last group, we talked a lot about this topic, we talk a lot about not manipulating having a conversation with people about what's working, what's not working, what resources are needed, what the situation is, without trying to manipulate without trying to get them in or, or bought in, or try to get them to work more without proper compensation. It's weird, you know, we've got some very weird things, we have to get away from that we have to be more honest, open, and more transparent. I think it's a great word. But we have to be mostly consistent. If we're consistent, where if salespeople are consistent, managers are consistent. And if they've got those good, solid basics, bottom lines, fundamentals, the chances of success, assuming they're talking to the right people, and they've got a good company behind them are just huge.

Charlie Hauck
Well, and one of the things that, you know, when I think of early on, in my experience, either as the client and then jumping on the other side of the table, and it's something I hear you repeat over and over and over, and I think it's, it's as good a piece advices I've ever shared with a client, whether they're the salesperson or a sales manager, who's letting me work with his who's asked me to work with his sales team, is let's just deal with the facts. You know, let's just, let's just deal with the facts. There's a lot of emotional stuff in the world, in general, let's just cut that stuff out of the business conversations we've got to have with each other, either you are or you are not accomplishing your goals are doing the things that will help you accomplish your goals. Those are facts, they're not feelings, they're not. They're measurable. And when salespeople give in to the emotion, and managers, in a way, in my mind, when I see what causes me problem as the trainer, is managers buy into that emotion. They're like, fix my people, but believe all their, their stuff their crap. And and I'm like, Well, if we're going to be truthful about it, it's all crap. Why do we want to believe it? It's, it's, it's something that you're choosing to accept, rather than hold up your end of the bargain and just telling them they are they not they are or they are not doing their job. And that deliberate decision to just deal with the facts, whether it's on a sales call, or in a manager, salesperson interaction, is such a time saver, you know, in these remote interactions, you know, we don't have time and we don't technology's great, but it is limited. And it doesn't convey you know, as truthful as we can be in the conversation. The emotion doesn't come through the through the channels correctly. So let's just eliminate that as a problem area. Let's just deal with the facts. I work with a big sales team across the river from Philly. Helping them recently, I just had to sit down with somebody that has been there 41 years, and it's hey, let's just deal with the facts. to what you are or are not doing. And it stopped the conversation that was going nowhere and got it to a point that we could at least make some agreements on what this person needed to do. So I find that, you know, if the emote, if the emotions of the manager start getting more important than the conversation with the salesperson, nobody wins.

John Condry
That's great. I, in fact, just before we got on this podcast, I, I just had a conversation with a manager in one of my other programs. And, you know, she's, she's very frustrated, because she's trying to give feedback to one of her employees, and he's totally defensive, every time every time she approaches it. And, and it makes her feel bad. She's, she's, you know, she's, it's frustrates her. And so she, she called me, and we just were talking it through a little bit, and it played a lot into what you were saying about putting the emotional part, getting out of that part of it, and getting more into the realities of what is happening here. But people are people, and everybody brings their drama, they either bring their anger, or their anxiety or their fear, or they're being overly critical. It's, it's a lot in people's DNA. And many times managers have to separate the drama from the situation to be able to address it. But they have to, they have to deal with that. And the best way for them to deal with it is to not take it personally, when the manager takes some of that emotional feedback that you're talking about what's coming their way, then they either go into attack mode, or they run one of the two, and they don't ever get to some resolution, what is what you're talking about. I totally see that.

Sarah Waple
Do you think over the last two years, and as the works, faces have changed, do you think drama has increased or decreased?

John Condry
But drama has definitely increased, there's and there's four kinds of specific things. So these, I'll give you four things that have increased because of the pandemic. And this is what managers have to recognize, so they don't get it's like going off into a rabbit trail or whatever we call that thing. You know, they're, they're going off chasing, don't go chasing waterfalls, you know, they're like, they're like chasing stuff. They're chasing ghosts. And so it's here's the four areas. One is entitlement. Entitlement is it has is such a big, huge situation. And it's not just millennials, you know, I get so tired of hearing the conversation that, you know, all Millennials are entitled, and that's the problem.

Sarah Waple
Me too! I got roped into those.

John Condry
entitlement is everywhere, man. It's just it's it's the nature of our comfort level and technology and, and situation. And during the pandemic that has grown even even more, okay. And so managers have to kind of adapt, it's almost like adjusting their barometer, you know, hey, I had to deal with entitlement before. Well, now, you've got to deal with it. Now. It's even at a higher level. I just had a production group that I work with, they're, they're in the Windows business. And they were sending me they were so frustrated, because they're just trying to get people to come to work, literally just come to work, you know, people like well, I don't want to come to work, but I still want to get paid. You know. So it's a it's a weird thing for the production, folks. Because they're like, why can't I can't do that I need you to come to work. And I need you to show up consistently. And it's just funny to hear that. So that's number one.
Number two is personality conflicts. And I think it's actually I think people know more about people and personality styles. And you would think that that knowledge would then like allow us to work better with people that are not our cup of tea or not our flavor. But it doesn't, it really takes a lot of work for personality styles to be able to have certain people work with certain people and be able to communicate in a way that we both understand and and are motivated by the same things and you know, it's getting the nerd table with the jock table. It's amazing to me how aware people are of like, knowledge and information. I'll have people say to me, I'll be talking to it. Someone managers say oh, yeah, I can't deal with Bill. Bill's a narcissist. And I'm like what What do you know? I said, I said to him, What do you know about narcissism? You're a freaking codependent, you know about being codependent. So you know, you're bipolar? I dude's bipolar, you know. So it's like all of these terms of, there's so much information about stuff out there, it's almost overwhelming. So people really need to get a better handle of personality styles and how that works, and how to communicate and make connections.
The third one is drama, drama is height, that's what you asked me at first. So drama is one of the four. It's huge. It's, it's tic tock, it's, it's, it's social media, it's, it's just, it just so much drama, you know, and we, it's not that it's not a younger thing, we had it when Charlie and I were young, we had soap operas, and, and we had, you know, Dallas, and dynasty and all of these things, and it's always drama, and it's always the worst part of society. And it's fun to talk about people behind their back, it's a deflection, you know, I, you know, let's look at some of the gossip is like, huge, you know, so it's something you really have to deal with.
And the last thing is dopamine. Dopamine is the feel good drug that we all need to stay motivated to want to accomplish things to be successful. And where there's so much dopamine be so many ways you can get a shot during the day, that's unproductive, that doesn't mean anything, just checking your social media, you can, you can see a couple of likes on a Facebook post, and then all of a sudden, you like, you know what, I'm not working anymore. Today, I got, I got it, man, I got it, I got I feel good, I got a good job. You know, now I can either I can either, I can either get a couple of likes, or I can get on the phone and make 15 calls to people I don't know. Now which one is go, I'm gonna get my you know what, I'll do that one on Monday. But right now I need it. We all need the dopamine hits, keep us going, keep us moving, keep us motivated. But I'm gonna do some of the less thing. So there's a lot more opportunity for that. And if you put that on top of being remote, we really have to help people to be accountable for those bottom lines. So that is,

Charlie Hauck
I found it as the world transitioned into working from home, whatever, whatever job you were in, everybody found a way to go do it at home. And the salespeople that went and worked at home, found themselves sitting there with on here for eight hours, I'm actually in one place for eight hours or nine hours, when they thought of how much time actually spent in front of clients. Like really having business conversations with people, it was nowhere near eight hours for most people. And so their entitlement became, I'm only giving you the same amount of activity, as I was giving you when I was driving around my territory, covering my accounts. And so they became entitled to that, well, that's now time that I can walk the dog to use your phrase with your partner. It's the time I could get my shots of dopamine, but I'm going to give you my six calls a day or whatever it is for visits or whatever it was that somebody said, that's your behavior requirement. But boy, the the hours that they really had to work to accommodate that without having to drive to do it. A lot of people didn't look at it as more productive opportunities. They're like, Oh, well, I can work life balance during work hours, not after hours, to hell with where I'm going to do that. Anyway, I'm going to work life balance in this other time that I couldn't do it before where I was really accountable. I'm not I don't want to make it sound like I'm disparaging of all salespeople. That's not. But people naturally sort of migrated to the freedom of that. And then, oh, well, yeah, I can take care of, look, I was the stay at home parent for my grandson for the better part of a year. And I was still running Growth Dynamics. But you know, I'm not blaming people saying they're miscreants or whatever. But boy, it just changed that. What am I entitled to do with my time? I'm still making those calls for you. Don't ask me anything else about it. And some of that drama, which was the second of your four there I think it's had a huge impact on the way people are doing their business. And I think a lot of sales managers, some of them became entitled to not holding people accountable. I think it was a, I don't know if there's a trickle down or Trickle Up effect. But I think it's made the the work environment more complicated. I think that the disconnect has made people, we don't see them. As often, we don't have the same depth of relationships with a lot of people because we're, we're distant, we can't have lunch with people, we can't sit down with our administrative assistant and find out how he or she is doing with their world, in the end pandemic, I think it's really dismantled a lot of valuable relationships. But I also find that I'm, I'm having to remind people, it's a work day, you've got to put in the time, you can't just bargain with yourself to get out of your responsibilities. So I think there's a lot of challenges about that stuff. And when, when I work with some clients, you know, the supply chain issues, I want to talk to them about territory management. They can't manage territory, because their factory said, you need 50,000 pounds of this, we only made 25 years ago, you go sell it to. And so there's all kinds of different influences that your level in my level are trying to figure out, which is the right attitude to deal with that stuff. I'm coaching a lot of people on what's it mean, to Bob? And it's, it's conversations I never thought I'd have. And it's not Millennials or it's all different age. It's that whole business world that's been disrupted. And I think is it says disrupted today as it was 20 months ago.

Sarah Waple
With that. So I think your advice, I was gonna ask, what is your advice on dealing with this yours is you have to know what the expectations are. You have to be, you didn't say this, but knowing how you said it, you have to be honest with what you're doing. Yep. But what, what other advice do you have? John, you already have, you know, the bottom lines, and we're gonna do our morning meetings and all of that. But I think this conversation in itself is going to shape the future of professionalism for a long time.

John Condry
How do you think here's what I here's what I would add to that all the stuff that's been said, I would say that, we have to, we have to really look at the concept of gold time versus clock time, I had a group that I was working with, and I was working with everybody service, sales, management production in every area, I would have some work in. And I remember some of the some of the the salespeople, and I would tell them, we were talking about their success and their they've got a lot of things going. And they were of the mindset that they achieved their goals, whatever it happened to be that they were done. That was it, they were finished. You know, I would always tell them that some of the best deals, if they looked at some of the best deals, they were actually initiated between three and five, I used to always make fun of the group because I'd say Hey, has anyone seen three o'clock? Anybody who in the room has seen three o'clock, you know, because if they would be on gold time, then they worked hard, there's not like that they didn't work hard. And I get the concept, I get the idea, I get Uber, you know, in other words, you're you're doing your thing, and then you when you're there, you're there and you're focused, and you're in and I would I would say that, I admire that. I think it's great. And I'm not trying to being a baby boomer who wants to work just for work sake, you know, they're like, I need to work I what am I gonna do, I'm not gonna retire. And I'm not talking about that. But I'm talking about really understanding how much being available when your opportunities are. This is when everybody else checks out, you're still there. And that's what I always I used to tell them, I'll tell you this very, very quick story, I was out with a rep. And whenever I would go in the field with a rep and I haven't been in a field for a long time. And this is something else we're missing. This is something being working with a rep in the field is something else that we're missing a lot of times now with the with the pandemic, but when I used to go there, I used to have a very, very specific plan with everybody I went out with, you know, and I would say hey, we're, uh, you know, have those bottom lines I would say Okay, first of all, make sure your car's clean, because I hated riding around in some of These dumpsters that. And I'm not a freak about it, but it was just you know, I said, Hey, make sure the cars clean inside now, make sure you have all your samples and everything that you need, we have to go back to the office halfway through the day because you forgot something, make sure you've got everything that you need, make sure you have appointments set up. And then make sure you have a plan B if those appointments fall through, and then we're going to work till five. And all the time it would be so interesting so that everybody would tell me this is the most productive day that I had. And I would be like, I wonder why that is. So it's because you know, you've got these bottom lines. So I was out with a rap. She's really great. And we weren't she was killing it car was beautiful. Oh, and we had to eat at certain restaurants. I have very weird taste stuff. So there was only a very few selective restaurants that we could eat at for lunch. And we can only take a half hour. So we were out. We were having a killer day. It was just after we finished lunch. And we we'd had like a couple of sales in her world and we were just killing it. People were keeping their appointments. Life was great. All of a sudden, she gets a call. She's like, I gotta take this. We pull over onto the side. She gets out of the car. She hurt. You can just see her demeanor change. And she's on the phone and she's smoking now. So now ice oh man, she's, she's out there walking, she's smoking. She'son the phone, hand gestures. So she finally gets back in. And she's a totally different human being. She is not the same human being that I worked with. For the first half the day. She looked at me and she said, I hate this company. I hate them. I hate everyone in it. And I hate my life. Because I got to drop you off. Dude, you were done. I can't do this. I gotta go. I just have a customer. That's a big one. They're in trouble. We got a problem. She was just adamant, angry and adamant. I said, Whoa, wait a second. Wait a second. Let's stick to the plan. Man. We got to stick to the plan today. And that's not the plan. I said, but let's let's deal with it for a second. I said, What's the issue? So she told me and I said, Well, let's talk to you. Let's get your manager on the realm, you know, on the line. And we'll talk to him about it. She said he's never available. And I had told him that was the rule I had for him. If I was in the, in the field with one of your reps, you were always available. I needed anything from service or you I want someone available to take my call immediately. We had a client issue or something. So I called he was right there. She's like he's never there is never there. He was right there. She he took it off her back, took it off her plate. I'll handle it. You can go see them later, stick with the plan. So she kind of got her. You know, she said I need another cigarette is that alright? Go go smoke your cigarette, and get back here. And she said, All right. Now I need to regroup here. I gotta get going. I gotta I gotta get my head back in the game. Right? So we started back to work again. And at first it was not there. But all of a sudden, man, boom, she's right there. And we had, I have to tell you, man, it just the last part of that day, she rustled up some tremendous pieces of business for her. And she was like, Oh my gosh, I'm so glad that I did not get off this track I'm on because she was on a roll not just from the amount of people she was talking to. But her attitude. She was She had such a winning attitude. The stuff that we talked about and beginning about Charlie about heart, you know about that you can't buy a heart with a paycheck. You can't buy Dr. commitment, dedication with that. And she was like, oh my god, I'm so glad that we stayed with this until five o'clock. And it's just interesting that those kinds of situations are created by salespeople when they are structured and when they've kind of got that going. But that's the your Charlie's absolutely right. They're like, hey, you know, when I was in the field would take me to make my six calls. I had to travel around to everybody now I'm here. Now I'm I can make those six calls in like five minutes. And I can sign on and I'm here and I can pretend I heard about two employees, two salespeople that were actually literally working other jobs in other states. I'm not surprised by any of it. I'm telling the managers you know, you, you got to be when people are giving you signals. They're like, I need personal days. I need to you know, I said you know, it's not that I'm trying to attack stuff, but I need to use some of that stuff to recognize when people are trying to run their side hustles. And, you know, they feel totally justified in doing that. And you got to make sure that you're that you're on track for whatever they're supposed to get,

Charlie Hauck
you know, and then that goes back to what I think. And we're probably pretty close to wrapping up here. So this will sort of be my last concept, I think that found to be very important over the last two years, the basics work, no matter what the circumstances are, I've read a lot of articles, as I'm sure you have how to do business in the new environment, and this, that and the other thing, but at the end of the day, to me, it's still the same job. It's still, look, you got to do the right amount of activity. You got, as you said earlier, and it's, you know, we should put a banner of that in everybody's office, did you really talk to the right people today, it's, it's the right amount of activity with the right amount of people with the right steps. And getting it done in the right amount of time. We've accommodated, different circumstances as as a reason to get away from the basics or to reinvent selling as a look at social media, LinkedIn, Facebook, whether you're doing Instagram or all these things. Yeah, for some people, they're effective. I had a guy in a training session recently. He's just a machine at WhatsApp. He just cranks it out. But once those people make contact with him, it's the same thing that you and I have been training salespeople in sales managers about for 30 plus years. It's the basic steps. It's understanding how to be effective at really managing a process, really understanding the difference between people of different styles and how to be more effective. It's holding people accountable. It's to go all the way back to your Mike Fox, or Tom Fox.

John Condry
Bill. Now is that found it? Now I forgot, after all these years, I think it's Bill, Bill Fox,

Charlie Hauck
it's the same thing as the bill Fox story. I can't take thinking overs. It's the same process, we just deliver it in a little different circumstance. But I think that one of the things that I kind of want to defend in this profession, just like in sales, there's a lot of unprofessional trainers, and coaches, let's not get too far away from the basics. Because it's still just the business conversation. It's still being accountable to did you do the right work when you were supposed to do it. And I don't want to, I don't want to come across at any point with any of my clients that I've become this genius at selling in these circumstances, because I don't think I am. If you're looking at the circumstances, but day to day, go make money, be productive for your company, earn the money you want to earn, live the life you want to live. I think I'm pretty good at helping people do that as effectively this year as I was five years ago, or 10 years ago, and I don't want to lose track that the basics are still the basics.

John Condry
All I can say to that is Amen.

Charlie Hauck
Well, it's I hope at some point that people have have allowed themselves to just get it back to that point, be the most efficient and effective as they can be. Whether it's the managers that have to hold people accountable, and have difficult conversations with people that are trying as hard as they can, but maybe they're just not in the right sales job if you're in sales at all. And salespeople that will tell themselves the truth about what they're really doing with the time that they have available and the three to five people who like I can get all this stuff done by two. And then I can I can walk the dog I can watch Hogan's Heroes I can I can listen to five podcasts or whatever it is. I hope we get people away from that new reality which to me isn't all that new, or all that really isn't necessarily reality.

John Condry
So the last thing that I will just add to that is that every rep should have a plan B just like I have that young lady. I you know if things fall through or if you get finished early, or if you are on a roll or if you have a plan or or if it's the worst life day in your life. You go to plan B, and it keeps you going, it keeps you working. And if you've already achieved Plan A, then it takes you into another stratosphere. And it also gets you ready for the next quarter, which is right around.

Charlie Hauck
Yeah, it is. Man, John, thanks for thanks for sharing. And thanks for all that you've contributed to my success personally, and to the success of Growth Dynamics you've been. I don't even think partners a fair way to talk about it. You've been so much more than that in my life. And in my career in this part of my my professional development, and thank you for sharing the time and allowing Sarah to put us together and kind of guide us through this conversation. It's been wonderful.

John Condry
Right back at both. Okay.

Sarah Waple
Well, John, why don't you tell our listeners where they can find more about you, website, whatever else you want to share?

John Condry
Well, I can always go to cornerstones.com, that's where my basics are, but they're wanting to, and they can get my book on there. But if they're wanting to do more management stuff, they really need to talk to you guys. You know, your your place is one of I have two homes that I kind of work out of in general, and yours is one of them. And that's where people should talk to you all about the management track. everyone that's involved in high performance sales, are the managers of the people that are involved in their sit all you know, looking getting making being part of that group.

Charlie Hauck
Makes sense? We'll we'll do our best to capture them. So yeah, again, thank you. It's I like you know, we could drive the world crazy with war stories, but I love I love the concepts and the content that make the war stories real. So thanks again.

Sarah Waple
Thank you for tuning into this episode of Charlie and company. For more information about Charlie Sarah and Growth Dynamics. You can find information online at www dot Growth Dynamics online.com Or find us on Facebook, LinkedIn, Twitter, and now Instagram