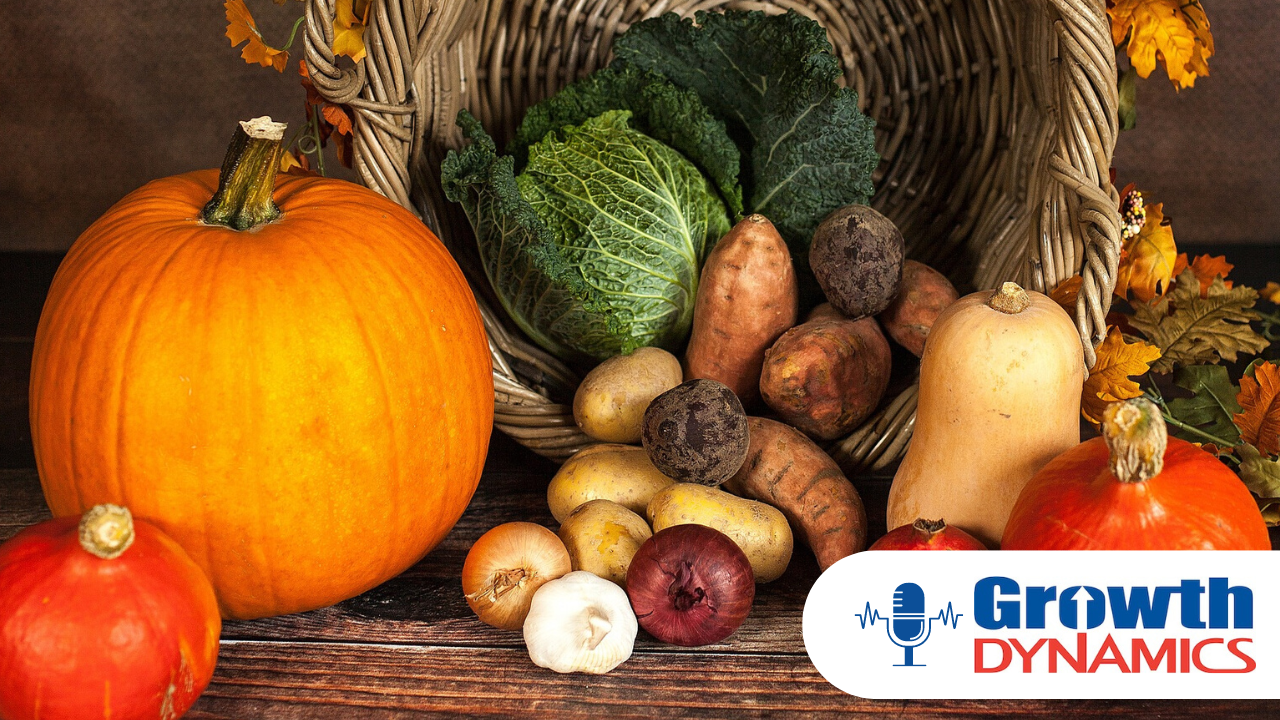 Good Monday morning. This is Sarah Waple, general manager of Growth Dynamics, and today we have a special edition, and personal, Monday Morning Manager.
In the past, you may have noticed that certain times of the year we drop a one off message that is not formatted the same as our other Monday Morning Managers. Today, this is that message. Normally, when we do this, I tend to ask Charlie to write what he's thinking, what he wants to say, and what he wants to share with all of you. Then I bring it to life with my podcast, and we put it on the website and share it. For some reason today, I wanted to take care of the message. He hasn't seen this. I haven't shared it. So this is new to everyone. But me. I hope you enjoy it. Please let me know, and now without further ado, here we go.
Thanksgiving week tends to kick off the winter holiday season for many of us. This season will fly by as we do a mad dash to the end of the year. And squeezing as much of everything as we can. Let this Monday Morning Manager serve as your reminder to pause, breathe in, breathe through, breathe deep, breathe out, and take in all that is happening around you.
Yes, schedules can become a bit hectic. As you work to get in those last calls of the year, set up first calls for next year, make and arrange plans with friends and family scheduled days off that you might need to take, and still figure out how to get all your work done. And of course, take care of yourself. It is easy to get wrapped up in all that is going on. Please take some time to do the thing we all do this week, tell each other what we are grateful for. Whether if it's if you have kids coming home from school, and they share with you, if you're sitting around a family, or maybe for some people, still a Zoom session, and you share what are you thankful for. I know this can feel boring, repetitive, trite, but I challenge you to really dig deep and find what it is that you are thankful for this year. Be creative. Think outside of the family, friends and health box. Not that I'm saying we should ever take any of that for granted. But what else is there? Find something that really makes you happy that you experienced this year and additionally, start your planning for 2023. Don't wait for December 31 And the first week of January to plan your resolutions. And if you've been here a while, you know we don't really like resolutions. If you wonder why, just ask, we'll share. So here's my list of areas in my life that I am thankful for. And when you send in your Monday Morning Manager responses this week, please share some of the things that you are thankful for. So we can be thankful for them to.
And now, in no particular order, and I'm betting I speak for Charlie on this one, I'm thankful that so many of you listening or reading actively, make the choice to be in our network. If you're a friend, client, former client or someone that just likes what we do, thank you. There are many options out there for the work that we do. But you pick us time and time again. You help us network and fill classes. You allow us to become part of your companies and you trust us with your most valuable assets, your time and your people.
Next, I am thankful for my family. But I am especially proud that I can come to work every day with my dad. Working so closely with a family member, or in a family business is not always easy, or for everyone. But for Charlie and I, we have found what works and I will cherish all of the time we have had and look forward to seeing what else we can do with Growth Dynamics in the future. The pressure of counting days off or missing activities with my children is something I don't experience anymore. I'm able to try and do it all all the time. I might not be successful all the time, but I never have to worry about asking for the time to try. Thank you dad.
One of my most favorite parts of being a part of Growth Dynamics is watching each and every one of you find your success. You may have used our processes to find success in your professional careers, or your personal lives. Either way, it warms my heart to know you are a better version of yourself, maybe in a tiny part because of us. I am thankful that our clients are in positions where there is a nearly never ending supply of prospects for them. For our clients to be able to grow, provide for themselves and their families, is part of our mission at Growth Dynamics.
And last, but not least, I'm thankful that we live in America. While I don't always agree with what is happening, and am concerned about aspects of our future in this country, I am not in a daily danger simply for being a woman, a rather opinionated, take no crap kind of woman at that. Americans are offered so many rights and opportunities that others are not. I try to live each day remembering that exact thing, and thanking those that have come before me to do the hard work, and those that protect us when asked.
So as you plan the rest of your week, and year, don't forget to check on your friends and family. The holiday season can be especially tough for those who feel they have no one. Maybe they don't know if they will have plans, where their next meal will come from, or they're not sure if they are going to be able to enjoy the company of others. And maybe they're mourning the loss of someone. Let's rally around each other and make sure we are all doing the best we can and lend a hand to someone who might not be, whether you know them or not.
While this might not be the business focused Monday Morning Manager you are used to, I hope you enjoyed it. The more good we can put into the world will lead us to a better world. So, Happy Thanksgiving. I hope everyone out there enjoys it, and then is ready to get back to work once it's done. So go out there and make this week the best one yet.