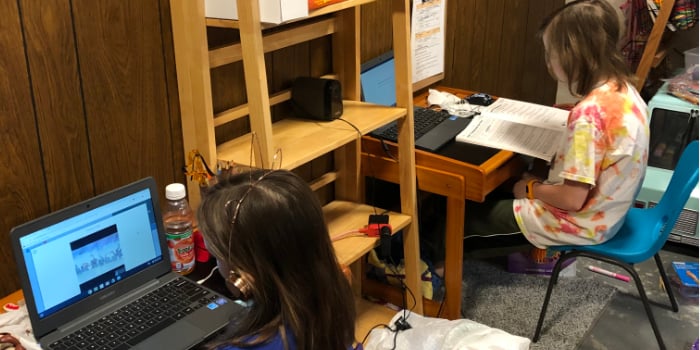 The Covid-19 shut down has led us into uncharted territory in quite a few areas, and perhaps the most noticeable is the Education Experiment we have thrown at our teachers and their students. Many of us have ringside seats to this process, and I do not know if it is going as anyone hoped. If you are one of the parents that is actively engaged in this homeschooling delivery you have my utmost respect for your patience and persistence.
I live in a multi-generational household and get to observe my daughter, a fourth-grade teacher, remotely interact with her class each day. I also have another daughter, Sarah Waple of Growth Dynamics, that is doing her damnedest to be a good "remote teacher" at her house with two kids. The challenges are different for each of them and the perspectives are equally different. I just know that the sudden change from going to school and sending kids to school to doing it all from home is daunting for them both.
As a "dinosaur" relative to technology, I know first-hand how working remotely has impacted me over the last eight weeks, but I have it easy compared to what I see going on with my daughters and grandkids. No one was ready for this, and consequently every day looks like a new attempt at making the best of a lousy situation. Tears, aggravation, frustration, confusion, being overwhelmed; I have witnessed it all with them. And yet despite the challenges they keep at it, working to make this unplanned and unwanted situation work as best as possible. It has not been easy on lots of levels, but somehow it gets done. And I can see why one of my daughters is a teacher and one is not. They were both smart enough to make career decisions that worked out well.
To all of you parents working your butts off to learn how to teach, and to all you teachers that are learning how to ZOOM teach, and to all your kids that miss their friends but still do the school stuff, I salute your commitment and flexibility in these challenging circumstances. You all inspire me to be courageous and less complaining when technology does not work perfectly for me.