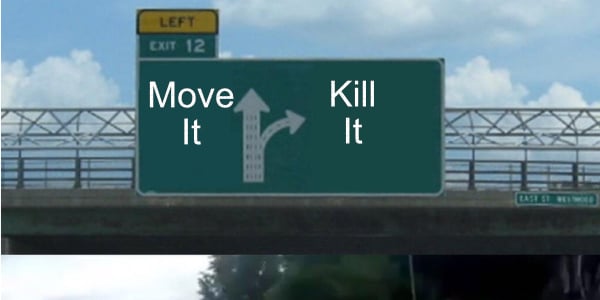 Symptoms:
Alice was at her wit's end. After three months of hard work, moving step by step towards the final decision, the sales process was stuck. She had worked the system well but had failed to get either a "Yes" or a "No" while she was in front of the prospect. Now her calls were not being returned by the client. Alice had put too much work into the account to walk away, and she was smart enough to know that the selling isn't over until she says it's over. However, she was uncertain how to proceed if she couldn't find out what was going on behind the scenes at the account.
Diagnosis:

Alice knows that Yellow lights and Red lights mean to slow down or stop, instead of hitting the gas and racing through the light to a certain crash. She wants to get movement one way or another so she can get the information she needs to decide how to proceed. With proper knowledge she can make the decision to move it or kill it on her own terms.
In retrospect, she figures that she wasn't persistent enough during the last call to find out if there was a "No" there somewhere and now she has lingering doubts about whether she even had a deal in the first place. She would know the answer by now if she had taken the time to schedule a decision meeting or put a deadline on the end of the process.
Prescription:

There are a number of options to get the process moving:
Offer to "fire" yourself for not getting this deal off their desk.
Ask the account if you have misread the earlier signals that you were going forward.
Write off the account and move on. Time kills deals and this one might have already been dead.
If it's important enough, then do "whatever it takes" to move it or kill it.
Give them the pen and ask what would a great solution look like so that they know they made a good decision.
In a competitive environment the sale isn't over until it's over. Sometimes they decide, sometimes you do. Taking action steps removes the pressure and eliminates the agony of how to proceed. With a full pipeline, Alice can deal with this account from a position of strength.
Critical Thinking:
Are you sitting on any deals or conversations that fall into a place where you can move it or kill it?
The Drill
Final Thought for the Morning:

"Whenever you see a successful business, someone once made a courageous decision." Peter Drucker
"If you don't make a choice, life makes it for you and then you're stuck with what it decides. Take control of your destiny so that doesn't happen" Stewart Stafford
Your Top 3 Goals & Tactics for the Week
LAST WEEK: Update us on how things went last week with your stated Goals and GD Tactics.
THIS WEEK: Please share your Top 3 Goals for this week and the GD tactics you plan to deploy.