Yesterday I sat in our monthly session of our High-Performance Sales Program with a room full of sales professionals and they were all talking about how rude many people have, in their eyes, become. One attendee even spoke about how an affiliate of their office questioned how she even acquired the contact's phone number.
Charlie w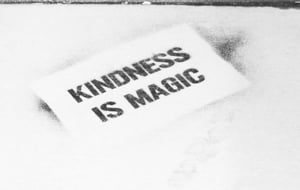 as unsure if people are truly ruder than in the past, but the class all felt that with the access to people via websites and social media without necessarily having to go through a gate keeper anymore can make decision makers more frustrated with introductory calls.
Kill them with kindness was one thing agreed upon once you can get someone to take your call. No matter what the outcome was use kindness.
Kindness. This word is becoming bigger and bigger in our society every day. For me, a mom of two elementary students, the school praises and displays the names of children who do a RAK- random act of kindness- for someone else. How many quotes have you seen come across Facebook and LinkedIn that focus on some aspect of kindness?
LinkedIn is where I came across an article from a partner we have worked with, Becker School Supplies, that reviews how to practice kindness with young children. I realized that so many of the ways listed in the article can, and should, apply to not only children but adults. Maybe you aren't going to set up a RAK jar or reward your clients and customers with a prize for being kind, but what if you simply said, "thank you for telling me the truth."
As adults we forget to apply what we learn as children to our lives- and even more- our sales process.
Give the article a read (linked below) and share with us how you think you can add more kindness to your day and sales processes.